PRESIDENT'S MESSAGE:
A group of friends with the desire to celebrate and share their love of their Italian culture, decided to become a chapter of the international Societa' Dante Alighieri. So, in the summer of 1985, the Dante Alighieri Society of Denver was "born" and continues its mission today. The reason the Society has been successful is because dedicated leadership has always striven to produce a quality product appreciated by members and non-members alike. Election of Board officers is coming up this fall, but it is you, as members, who are the ultimate leaders in what takes place in the Dante Alighieri Society. With that in mind, not only do I ask that you vote when the time comes but also to come forward with ideas, suggestions, and even criticisms of what we're doing to promote the Italian culture. We're always open to hearing from you. Grazie. John Giardino.
SEPTEMBER CULTURAL MEETING

: On Friday, September 9
Francesca Howell, scholar, educator, writer and actor, will present "Hidden Festivals of Italy".
The program will begin at 7:30 PM at Our Lady of Mt. Carmel Parish Hall, 3549 Navajo St., Denver.
Have you ever wondered about sense of place — how you feel more deeply connected to some geographic places, or certain locations hold your heart/mind? Have you experienced festivals, such as those covering Italy from top to toe, and wondered why they matter so much to local people? How have humans over time expressed special bonds with place, such as in Europe where communities live in one town for centuries? Additionally, for those interested in Celtic heritage or identity — did you know that the Celts populated much of continental Europe — including Northern Italy?
Francesca Ciancimino Howell lived for years in Italy, where her doctoral and post-doctoral research explored some little-known festivals, ceremonies and feasts. She wandered in areas unknown to even the Italians themselves. The talk will include enchanting photos and details for your own trip to some of Italy's hidden jewels. It may also help you better understand love of certain lands, or where you sense deep bonds with place.
Come join us for a magical exploration and colorful discussion with mysterious overtones!
Get to know some hidden sides of the Italy you love.
FOND FAREWELL TO ITALIAN LANGUAGE TEACHER BRITTA JENSEN
The Dante Alighieri Society bids a fond farewell to our Italian language teacher, Britta Jensen. She has returned to her home state of New York. Britta has taught all levels of Italian language for the Society since 2017. She is a talented, bilingual, and experienced teacher who provided a wonderful experience for the Society's students. Britta introduced some creative ways of teaching Italian into the curriculum, including offering Italian literature classes that featured classic and contemporary Italian authors, and conversation classes with illuminating topics.
BENVENUTI
The Dante Alighieri Society of Denver gives a warm welcome to the following new members:
Zuleika Aponte, Jennifer and Marshall Gile, Mary Hayduk, Barbara Ivis,
Scott Lagana, Julia McIntosh, Kellie Mills, Alicia and Kendra Todd.
FALL SESSION OF ITALIAN LANGUAGE CLASSES
BEGINS SEPT. 19, 2022
The Society's ten-week summer session of in-person Italian language classes is currently underway. The fall session of Italian language classes will begin the week of September 19, 2022. The schedule for fall classes will be posted on the Dante Society website by August 15. The registration deadline for the fall session is September 12. Classes are taught by experienced and talented bi-lingual teachers, and include beginner, intermediate, advanced, and conversation classes. Each class meets for 90 minutes, once a week at 3549 Navajo Street, Denver, in the parish office of Our Lady of Mt. Carmel Church. Cost is $115 for members and $145 for non-members. New members are welcome to join the Dante Alighieri Society when they register for classes. Please register early because classes do fill up. For more information, please contact the Education Chair Suzanne Fasing at This email address is being protected from spambots. You need JavaScript enabled to view it. . To register for classes, visit: https://dantealighieriofdenver.com/classes/language-classes/
** The registration deadline for the fall session is September 12, 2022. **
FALL 2022 CLASS DESCRIPTIONS
Beginner 1. (Beginner 1 IS FULL. To be put on a wait list, email This email address is being protected from spambots. You need JavaScript enabled to view it..) Mondays, 7:30 pm to 9:00 pm, beginning September 19, 2022 through November 28, 2022 (no class Nov. 21 of Thanksgiving week) (Brunetti). In this class students with little or no knowledge of Italian will learn to communicate in simple everyday situations. Students will study the basic building blocks of the Italian language, including the alphabet, rules of pronunciation, basic syntax, and grammatical structures. Topics include subject pronouns, definite and indefinite articles, regular verbs in the present tense, and noun-adjective agreement. Required Text: The New Italian Project 1a
Beginner 2. Thursdays, 6:00 pm to 7:30 pm, beginning September 22, 2022 through December 1, 2022 (no class on Thanksgiving, Nov. 24) (Brunetti). In this class students will build upon their existing knowledge while incorporating new vocabulary and grammatical structures through conversation, listening, reading and writing activities. Topics include irregular and modal verbs in the present tense, articulated prepositions, and possessive adjectives. Required Text: The New Italian Project 1a
Beginner 3. Wednesdays, 6:00 pm to 7:30 pm, beginning September 21, 2022 through November 30, 2022 (no class on Nov. 23, Thanksgiving eve) (Brunetti). In this class, students will build upon their prior studies through listening, reading and writing activities. Topics include past and future verb tenses. Emphasis will be placed on everyday conversational situations using grammar and vocabulary from the textbook. Required Text: The New Italian Project 1a
Beginner 4. Mondays, 6:00 pm to 7:30 pm, beginning September 19, 2022 through November 28, 2022 (no class on Nov. 21 of Thanksgiving week) (Brunetti). In this class, students will build upon their prior studies through listening, reading and writing activities. Topics include future verb tenses and learning about holidays and train travel in Italy. Required Text: The New Italian Project 1a
Intermediate 1. Wednesdays, 7:30 pm to 9:00 pm, beginning September 21, 2022 through November 30, 2022 (no class on Nov. 23, Thanksgiving eve) (Brunetti). In this class students will build upon their prior studies through listening, reading and writing activities. Topics include past verb tenses and possessive pronouns.
Required Texts: The New Italian Project 1a And Required Text: The New Italian Project 1b
Advanced 1. Thursdays, 7:30 pm to 9:00 pm, beginning September 22, 2022 through December 1, 2022 (no class on Nov. 24, Thanksgiving) (Brunetti). In this class students will continue to expand their vocabulary and understanding of more advanced grammatical concepts through listening activities, readings, videos, and conversation. The class will be conducted primarily in Italian and topics will include double object pronouns, relative pronouns and the gerund.
Required Text: The Italian Project 2a
October - Italian Heritage Month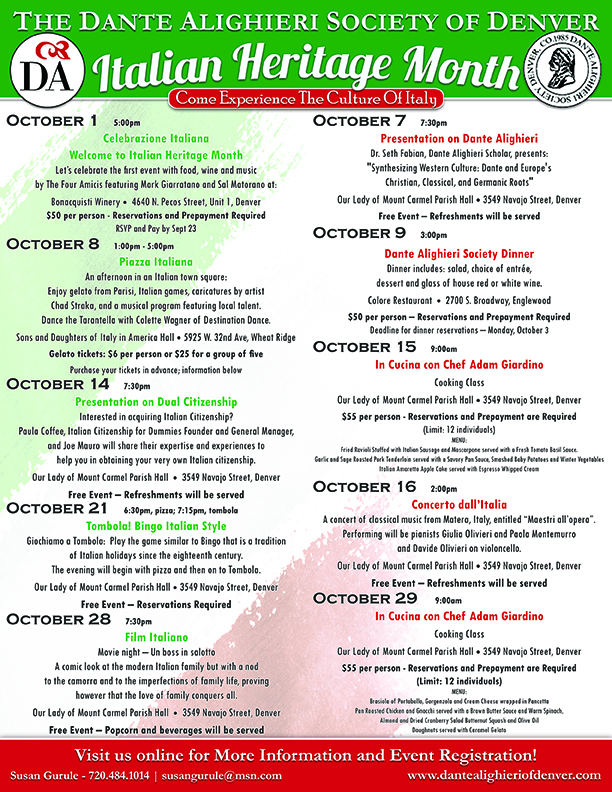 Click to ViewOCTOBER CELEBRATION: Our Society will be celebrating Italian Heritage Month with a calendar full of activities and cultural events, so please plan to enjoy as many of them as you can throughout October. Please see the attached flyer and look forward to events such as a presentation on Dante Alighieri, a musical concert, cooking classes, an Italian film, Italian dinners and more.
October 1 Celebrazione Italiana
Have you been yearning to hear some of those old Italian songs sung by the crooners of years gone by. Here's your opportunity to enjoy exactly that. Join your fellow Dante Alighieri Society members and guests at Bonacquisti Winery at 4640 North Pecos at 5:00 p.m. to listen to The Four Amicis featuring Mark Giarratano on lead vocals and Sal Matorano on the saxophone. Visit with friends and meet new ones as you drink some of Bonacquisiti's fine wines (I hear the No Neck Vinny is great) while enjoying a scrumptious buffet.
Call Susan or email her at This email address is being protected from spambots. You need JavaScript enabled to view it. to make your reservations. $50 per person. Deadline is September 23.
October 7 Presentation on Dante Alighieri
The Dante Alighieri Society has hit the trifecta. Dr. Seth Fabian has graciously accepted our invitation to return for a third presentation and enlighten us further on the man whose name our organization carries. Dr. Fabian has taken us to two levels of Dante's Divine Comedy, where to now? Join us at Our Lady of Mt. Carmel parish hall and see!
October 8 Piazza Italiana
If you've been missing the piazzas of Italy, come and refresh your memory at the Sons and Daughters of Italy hall at 5925 W. 32nd Avenue in Wheat Ridge. Enjoy a gelato, play scopa, take your picture in front of a wonderful Italian backdrop, see some Italian automobiles. Local talent will be performing on stage, and Chad Straka from last year's gelato social will be drawing caricatures of folks. If you want to expand on your Italian heritage, there will be demonstration in bocce and the Italian language, in addition to learning how to dance the tarantella! We want to be sure to have plenty of gelato on hand so call Susan or email her at This email address is being protected from spambots. You need JavaScript enabled to view it. to get your tickets. $6 per person (2 scoops of gelato) or $25 for a group of five people. Bring family and friends!
FUND RAISING OPPORTUNITY FOR SCHOLARSHIP FUND
King Soopers offers organizations a simple way to raise money by returning 5% of grocery sales made on your card to the organization.
To participate in the program…
Click on the "Participate" button below
Sign in or create new account, have your loyalty number that is on back of card if you have one.
Once you have an account, enroll now from the list of organizations
Can type in Dante Alighieri Society of Denver in search for it to pop up, or go through list which is alphabetical
Then click on it and you are enrolled.
This will be easy once enrolled, just swipe credit card for all purchases.
The Dante Society has already received over $1,000 toward our Scholarship Fund through the King Soopers Neighborhood Reward Program. A hearty thanks to our members and friends who have participated in the program. If you have any questions, kindly contact Veronica Goodrich 303.421.1547 or Carol Marsala 303.237.0688.
ROCKIES BASEBALL GAME
On August 10th the Colorado Rockies and the Italian American Baseball Foundation welcomed baseball fans to Coors field for a fun day of fellowship and watching baseball. Italian hats, shirts and flags could be seen throughout the stadium. The Dante Alighieri Society of Denver was represented as well as members of the Italian American Baseball Foundation, Italian American Business Association, Potenza Lodge, Sons and Daughters of Italy and the Mount Carmel Men's Club. The night was a fun fundraiser, and a donation was made to the Dante Alighieri Society for each ticket sold to each of our members. The great thing is this game will now be an annual event. Remember this next year, and join other Italian Americans in the stands as the umpire yells "Play Ball!".
AUGURI DI BUON COMPLEANNO
We wish our members a Buon Compleanno during their birthday month.
Nadine Kline - Sept 1
Thomas Ruge - Sept 2
Derek Weingart - Sept 11
Holly Nuechterlein - Sept 16
Sally Ogden - Sept 17
Andrea Giancarlo - Sept 26
Anna Marie Ferrari - Sept 26
Jason Clerkin - Sept 29
We want to include more members in this column,
so please send a quick email, with your birthday month and day.
Send to Dante Society board member Suzanne Fasing, at This email address is being protected from spambots. You need JavaScript enabled to view it. - Grazie!
Mese del cuore
Vendemmia: si riempiono
di grappoli I bei tini
che i mosti a tempo debito
trasformeranno in vini.
Torna al lavoro solito
Chi vive onestamente;
l'asseinteista cronico
ritorna a non far niente.
Month of the heart
Harvest: tubs are filled
with clusters of grapes
that in due time
will turn into wine.
The honest man
will return to work;
the slacker will remain
a good-for-nothing.
INDOVINELLO Qual e' la frutta che il pesce odia? - Riddle Which fruit does a fish hate?
Hospitality Chairperson seeking volunteers
Camilla Marcantonio has agreed to serve as Hospitality Chairperson for our Society and will be recruiting members to help with refreshments at our monthly cultural meetings. If you are willing to contribute to our social hour following a cultural program by bringing a dessert to share, please email Camilla at: This email address is being protected from spambots. You need JavaScript enabled to view it.
BRIEF NEWS FROM ITALY
The mayor of Venice offered to 'buy dinner' for anyone who could identify a pair of water-skiers after videos went viral last week.
Two people died, and around a hundred others were evacuated in Tuscany, local authorities said, as storms, heavy rain and hail hit many parts of northern Italy.
Teaching staff who refused to get vaccinated against Covid-19 will be allowed back to work in the new school year, Italy's education ministry has confirmed.
TIPS ON ITALY

By Tonya Clement.
Riso Oryza SativaItalians love pasta but in Northern Italy, they also love rice. During my travels to Italy, I met the Murtas family. Their family business is rice production. They produce a wonderful product with the brand name RisoAlmo. If you fly into Milan, you might get a glimpse of their rice fields from the plane.
The youngest family members, Elisa and Frederica (two twin sisters), are following in their parent's footsteps and carrying the torch forward to ensure the rice is available for future generations. I always wonder why risotto tastes so much better in Italy than when I cook it at home. The answer perhaps rests within the type of rice used. In the US we tend to cook with Arborio rice and in the Piemonte area they cook with Carnaroli. In my quest to learn more about this local staple, I asked the two twin sisters to teach me a little more about the business and here is what they had to say in their own words.
I added some translation to assist you in reading the history.

L'Italia è il paese europeo con la maggiore produzione (highest or biggest production) di riso. In Italia la coltivazione del riso è concentrata al nord nelle provincie di Novara e Vercelli (Piemonte), Pavia (Lombardia), nelle zone del Ferrarese (Emila Romagna) in Toscana vicino a Siena, nella piana del Sibari in Calabria e nella parte ovest della Sardegna nella zona di Oristano.
Il riso in Italia si semina (sown) ad Aprile-Maggio e si raccoglie (collected) a Settembre-Ottobre. Esistono 2 metodi diversi di semina (sowing methods): in acqua o in asciutta (dry). In acqua il riso viene seminato a spaglio in un campo inondato (flooded field). La semina in asciutta, invece, si esegue in campi non allagati con apposite seminatrici (special seeders). Il seme viene interrato (buried) direttamente in campo, a file, e l'acqua verrà immessa solo a partire dal mese di Giugno.
Il riso a differenza di quello che si potrebbe pensare, non è una pianta acquatica, ma una pianta terrestre in grado di vivere anche in terreni sommersi. L'acqua in risaia svolge (paddy field) un importante ruolo di volano termico, infatti permette di accumulare calore (accumulation of heat) durante il giorno e cederlo (releases) durante la notte.
La raccolta (harvesting) avviene (takes place) a settembre con particolari macchine (special machines) chiamate mietitrebbie che hanno una duplice funzione: tagliano (they cut) la pianta di riso e la trebbiano ovvero separano la paglia (straw) dalla granella (grain). Una volta raccolto (harvested), la granella di riso deve essere (must be) essiccata (dried). Dopo l'essiccazione (drying) il riso viene lavorato (is processed) dalle riserie (rice mills). Diverse sono le fasi di lavorazione. la prima si chiama sbramatura. Qui viene eliminata la lolla (husk) e si ottiene il riso integrale ancora vestito dal pericarpo.
La fase successiva (next phase) invece serve per dare origine al riso bianco, quello che tutti normalmente consumiamo. Come classificazione scientifica il riso appartiene (belongs) alla famiglia delle graminacee (grasses) al genere Oryza. Sono solo 2 le specie sfruttate (exploited) a livello agrario: Oryza sativa, diffusa (spread) in tutto il mondo e la specie Oryza glaberrima diffusa solo in Africa occidentale (Western). In Europa si utilizza anche il termine "Japonica" per indicare tutti i risi con granello arrotondato (round grain) e il termine "Tipo indica" per indicare tutti i risi con granello lungo e stretto (narrow). A livello merceologico (commodity level) le varietà possono essere raggruppate (grouped) in diversi gruppi a seconda delle dimensioni del granello (size of the grain) (larghezza (width) (L), lunghezza (length) (l) e rapporto tra lunghezz (length and width ratio) a e larghezza R L/l) del contenuto in amilosio e della consistenza.
Generalmente in Italia si coltivano varietà a granello Tondo (usati per dolci e minestre e riso soffiato (puffed)) varietà a granello Lungo e grande adatte alla preparazione del risotto come il Carnaroli, varietà a granello lungo e stretto i così detti "tipo indica" per la preparazione di contorni e insalate di riso, varietà aromatiche caratterizzate da un granello lungo e affusolato (tipo Thai) che durante la cottura (cooking) sprigionano (gives off) un tipico profumo caratteristico (aroma) (tipo Basmati, Jasmine). Negli ultimi anni si è sempre più diffusa (widespread) la moda di consumare risi a pericarpo colorato (viola, rosso o bronzo).
Nel Nord Italia, però, il primo piatto tipico è, senza dubbio (no doubt), il risotto e diverse sono le varietà, a seconda della zona (depending on the zone), con cui può essere preparato. La più conosciuta (best known) è senza dubbio il Carnaroli. Varietà a granello grosso, perlato (il granello presenta una perla centrale biancastra) (whitish central pearl) e con un alto contenuto (high content) di amilosio (starch). La cottura del chicco (grain) è molto uniforme e il granello non tende ad incollarsi (stick). Il Carnaroli viene utilizzato per lo più nella provincia di Novara. Viene definito "Il Re dei Risotti". E' il più pregiato (most valuable).
Un'altra varietà ottima (another excellent variety) per la preparazione del risotto è l'Arborio diffusa (widespread) soprattutto nella provincia di Vercelli. Arborio ha una perla molto più estesa rispetto al Carnaroli e ha un basso contenuto (low content) in amilosio (starch). Altre varietà utilizzate (to use) sono Roma e Baldo che rispetto alle precedenti (compared to the other ones) hanno granelli più cristallini. In cottura i granelli rimangono soffici (fluffy) all'esterno con un'anima croccante all'interno. Anche queste due varietà (these two varieties also) hanno un basso contenuto in amilosio. Nelle zone invece di Verona precisamente a Isola della Scala (e in generale in tutto il Veneto) la varietà più utilizzata (the variety most used) per la preparazione del risotto è il Vialone Nano, il granello è più piccolo (smaller) delle varietà appena descritte e il contenuto in amilosio è medio (medium).
Non esiste una regola (there is no rule), nella preparazione del risotto, inerente all'utilizzo di una delle varietà appena descritte. La scelta (choice) dipende dalle tradizioni culinarie (culinary traditions) di ogni famiglia, noi per esempio usiamo solo Carnaroli (we use only Carnaroli). Invece varietà a granello lungo tipo (long grain varieties such as) Thaibonnet non sono assolutamente adatte (absolutely not suitable) alla preparazione del risotto.
Curioso sapere che in Italia centrale e in Italia meridionale il riso viene consumato pochissimo. In Meridione (in the south) ci sono alcuni piatti tipici (typical dishes) della tradizione: In Puglia ad esempio è famoso il piatto Riso Patate e Cozze (potatoes and mussels), in Sicilia il riso è utilizzato tantissimo (a lot) per Gli Arancini o Le Arancine (diatriba che da secoli fa litigare i Siciliani… e ancora oggi non abbiamo ancora capito se sono al maschile o al femminile). In Emilia Romagna si utilizza tantissimo per la preparazione di torte e dolci in generale. Insomma ogni regione, ogni città, ogni famiglia ha la propria ricetta tipica per esaltare questo fantastico cereale (fantastic cereal).
In Italy it is said that "rice is born in water and dies in wine." This is because during the preparation of risotto, while roasting the rice, it is essential to blend it with white or red wine depending on the recipe.
2022 Calendar
CULTURAL MEETING
September 9
EVENTS
Cooking Class – August 27
October – Italian Heritage Month
CLASSES
Fall term begins – September 19
Risposta all'Indovinello: "La pesca" – Answer to Riddle: "peach"; in Italian, "la pesca" means both peach and the sport of fishing.
MISSION STATEMENT
The Dante Alighieri Society of Denver exists to share and celebrate the richness of the
Italian culture and language with the entire community.
LIKE AND FOLLOW US ON FACEBOOK