On Sunday, May 1, 2022, the annual Awards Luncheon took place at the Mount Vernon Canyon Club. The nearly eighty people in attendance enjoyed the beautiful venue and delicious meal as well as the opportunity to interact with our scholarship winners. A heartfelt "Thank You" goes to all who have contributed to the Dante Alighieri Society Scholarship Fund. This important aspect of our organization could not continue without your support.
The Giulio Marcantonio Memorial Scholarship was awarded to Ireland Rose Dunlap, who will be studying at the Lorenzo de Medici in Florence, Italy. The Dr. Frank J. & Mary J. Giardino Memorial Scholarship was awarded to Marjorie Moessbauer, who will study at ISA at Universita' Cattolica del Sacro Cuore in Milan, Italy. The third scholarship was presented to Brinna Faughnan, who will also study at the Lorenzo de Medici in Florence, Italy. All three winners are students at the University of Denver.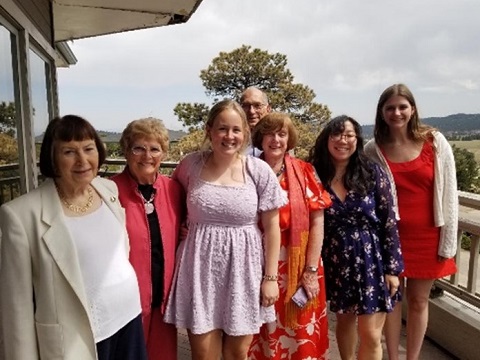 Scholarship Chairpersons Veronica Goodrich and Pamela Marcantonio, Marjorie Moessbauer,
President John Giardino, Professor Roberta Waldbaum,
Brinna Faughnan, Ireland Rose Dunlap
Since its inception the Dante Alighieri Society of Denver has awarded over $300,000 in scholarships to worthy college students, who will study some aspect of Italian culture in Italy.
THANK YOU:
With appreciation to all who contributed to the Dante Alighieri Society Scholarship fund in 2021 and 2022. To anyone we may have inadvertently omitted, our sincere thanks for your generous contribution.
Wayne Ambler
Marybeth Bonacci
Idamae Casagranda
Edward and Ann DeCicco
Suzanne Fasing
Phillip Fiore
Dr. Frank W. Giardino
Dr. John and Erin Giardino
Veronica Goodrich
Susan Gurule
Rhonda Hopkins
Virginia Linkus
Camilla Marcantonio
Gianfranco and Pamela Marcantonio
Frank Mauro
Leslie Minor
Derek Parks
Dr. John E. and Ami Sadler
Anthony and Susanna Saurini
Maria Seno
Rosalie Spicola
Vincent Taglialavore
Barbara Tinucci
Sharon Ulrich
Joanne Valvano
Roberta Waldbaum
Kroger-King Soopers - with thanks to the shoppers who chose the Dante Alighieri Society for their Community Rewards program.
Many of the donors listed above dedicated their contribution in Honor or in Memory of:
Leonard Waldbaum
Joseph Adducci
Giulio Marcantonio
Joseph Mauro's grandparents: Lucy and Joseph Mauro
Frank and Mary J Giardino